Become Alive to a new life!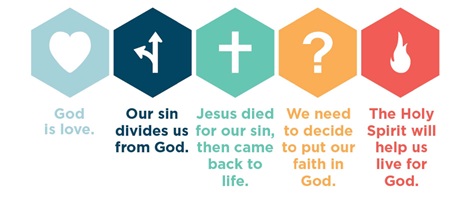 Alive in 5 is a simple way to share how others can become alive in a relationship with God. Five icons connected to five essential points to share the gospel with others.
Share clearly and courageously.
Order Alive in 5 Booklets: order here
Download Alive in 5 Graphics download here
Download Alive in 5 Youth Series download here
Gospel-Centered
Studying the Scripture draws us to become like Him.
Spirit-Empowered
God's Spirit illuminates the truth of Scripture to transform hearts, expose sin, and invite us into God's purpose.
Personally-Responsible
A personal decision to engage with the Bible prepares us to give an answer for the hope within us.